Tang Skyline Developer's Package
There are tons of information which can be retrieved from the Developer's Package, which is made available, when the site is open for tender by URA and these are some of the important information applicable to Developer Tang Skyline, that can help you in your decision to invest in a unit in this project, which is to be named as Artra.
Location – Tang Skyline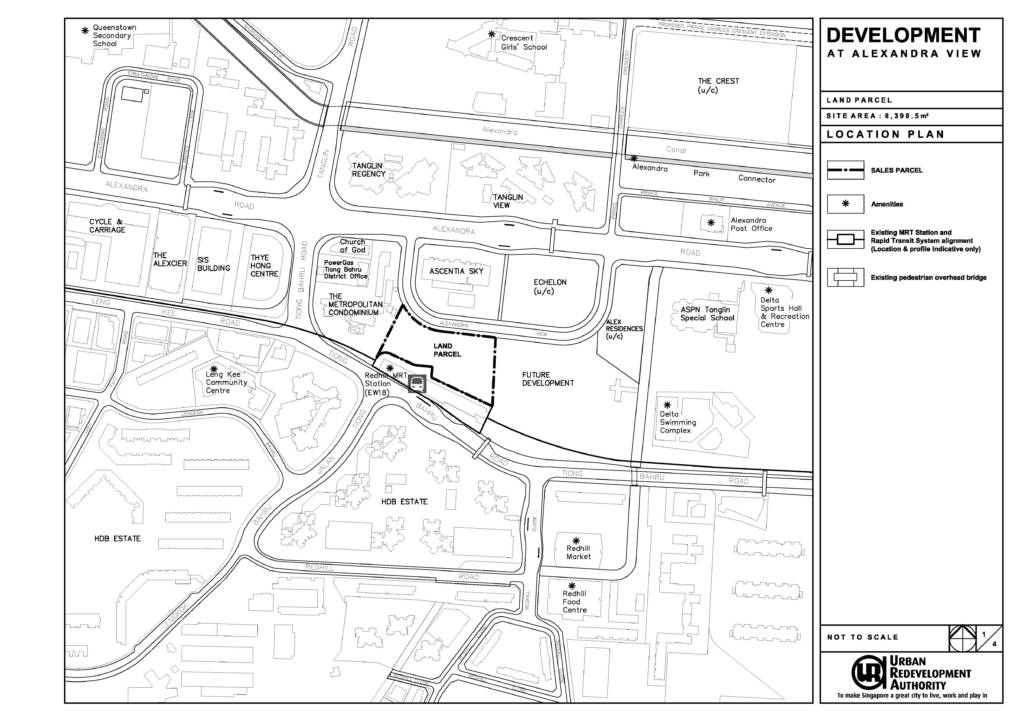 The boundary of the sales parcel is indicated in BOLD and Amenities are indicated with an * Asterix Mark. The amenities include: Queenstown Secondary School, Alexandra Park Connector, Alexandra Post Office, Delta Sports Hall and Recreation Centre, Delta Swimming Complex, Leng Kee Community Centre,  Redhill Market and Food Centre and of course the Redhill MRT Station.
Control Plan – Tang Skyline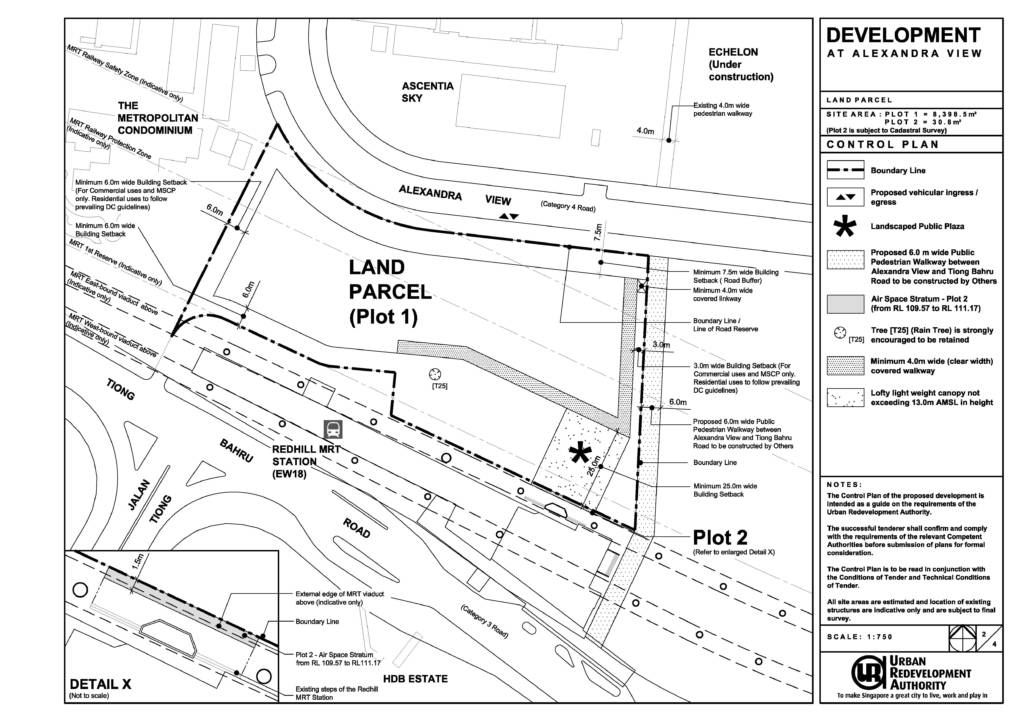 The proposed vehicular ingress / egress will be along Alexandra View which is a category 4 road. There will be a 6m wide public pedestrian walkway between Alexandra View and Tiong Bahru Road to provide connectivity. There will also be a landscape public plaza which is likely to be incorporated with the Commercial component of this development.
Building Height Plan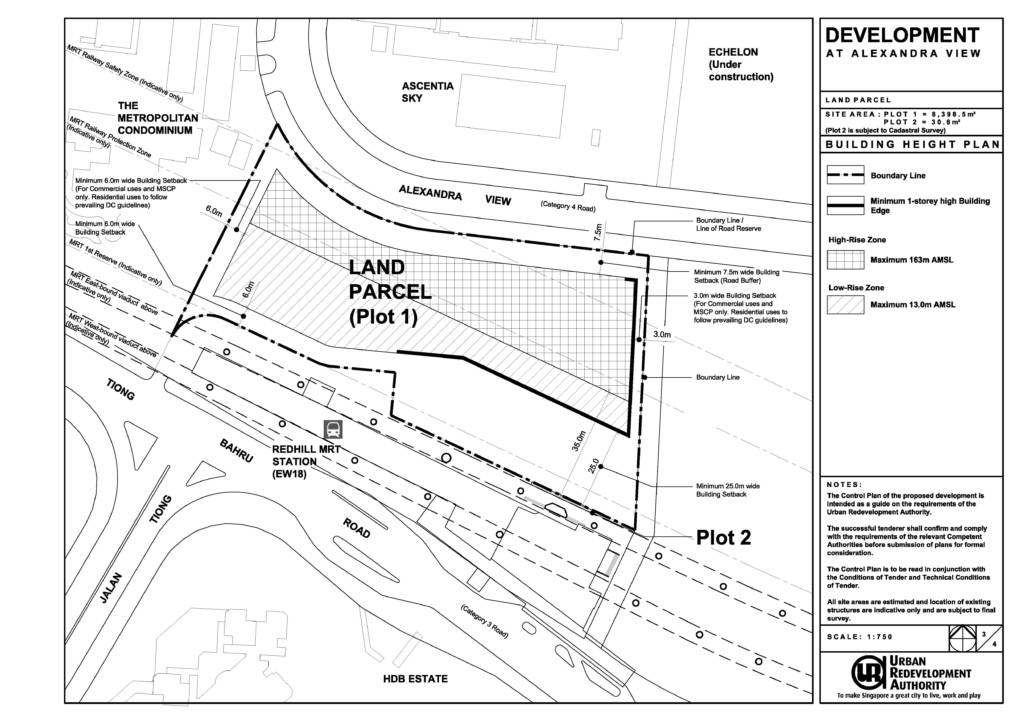 The development is separated into a high-rise and low-rise zone. the low-rise zone will be the commercial component and the high-rise zone will be the residential component. From the plan, the portion nearer to the MRT will be the commercial shops while the portion nearer to Alexandra View will be the high-rise residential units. The high-rise zone will have a maximum 163m AMSL while the low-rise zone will have a maximum of 13m AMSL.
Urban Design Guidelines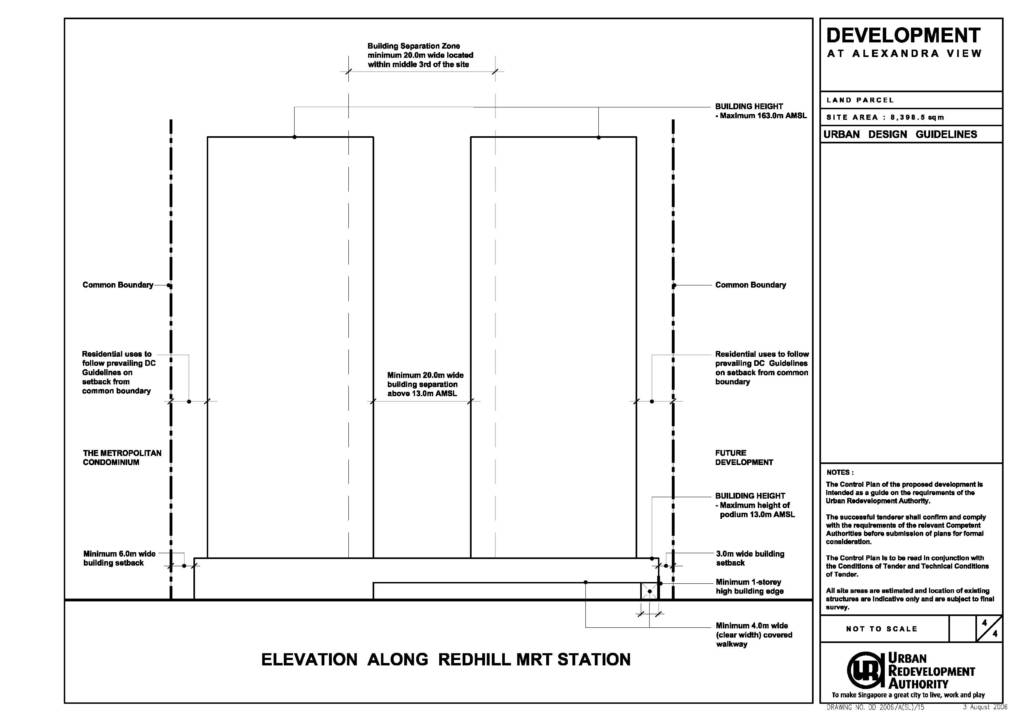 The setback from THE METROPOLITAN CONDOMINIUM is at least 6.0m from the commercial component and the distance from the residential component will follow the prevailing DC guidelines. The separation between towers (within the development, if applicable) will be at least 20.0m apart and the building height of the commercial component will be a maximum of 13.0m AMSL.
Thanks for your interest in Alexandra View Condominium. We appreciate your feedback and suggestions about Alexandra View by Tang Skyline.